News
Centering in Community: Post-Election Resources & Support
November 4, 2020
This has been a difficult and divisive election year, and it's not over yet. These are resources for community, connection, and support during the uncertainty of this post-election season of transition.
---
— Wednesday, November 4th —
*
5:00 PM — Post-Election Drop-In Space
Rev. Sarah Napoline will be hosting an open drop-in space for anyone who wants to check-in– folks can come and check-in with one another to see friendly faces, encourage our patience and resilience, and reconnect to hope for the future. We may hold another drop-in space later this week or next week, as needed.
Click here to join us on Zoom
or copy/paste into your browser:
https://us02web.zoom.us/j/82928665636
Meeting ID: 829 2866 5636
6:30 PM — Worship with Sanctuary Boston
The Sanctuary Boston is "a community of vibrant worship and real connection" that gathers for music, sharing, worship and community twice a month. "Join us for a special worship gathering of hope and grounding after the election. Whatever the results, we'll want to gather in community for some music and silence and some messages of hope and resilience."
Click here for information from Facebook:
Kindling the Flame: A Sanctuary Worship Gathering
Click here to join the Sanctuary Worship on Zoom
or copy/paste into your browser:
http://zoom.us/j/315418641
— Thursday, Nov 5th —
*
4:00 PM — Pastor's Chat & Podcast Discussion

Starting this week, Rev. Jeff Barz-Snell will be hosting an open chat and "Podcast with the Pastor" on Thursdays at 4 pm. Jeff welcomes folks to come and check-in about how their feeling during this stressful week. Meeting each week at "tea-time," this will be a Zoom-based chat to check-in and discuss an episode of the award-winning podcast, "Seeing White." (Listening to the podcast in advance is an invitation, not a requirement. Full details below.)
Click here to join us on Zoom
or copy/paste into your browser:
https://uuma.zoom.us/j/92640534044
Meeting ID: 926 4053 4044
8:00 to 9:15 PM — UUA Post-Election Vigil & Community Gathering
 — Facebook Event with Information
No matter the results of the election this year, we know we will want to gather in community. This gathering will be hosted by the Unitarian Universalist Association and the UUA President, Susan Frederick-Gray. It will be accessible on Zoom, Facebook Live, and YouTube.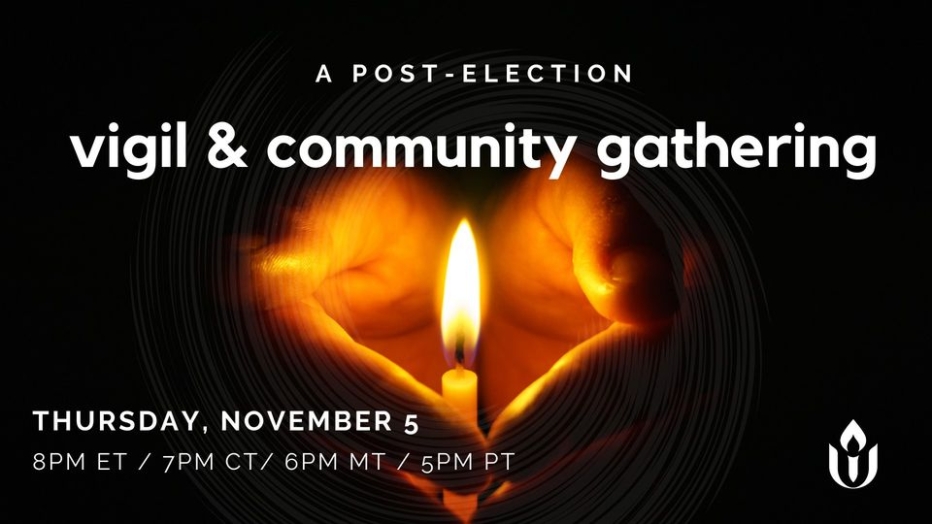 Click here to find more information on Facebook
(https://www.facebook.com/events/3713971198666868)
---
Resources & Information
---
Ongoing Programs for Next Week & Beyond
Weekly Morning Meditation
Wednesday at 8:30 AM
Join us for a time of silence, stillness, and contemplation to re-center yourself during the week.
Click here to join us on Zoom
or copy/paste into your browser:
https://us02web.zoom.us/j/82332140993
Meeting ID: 823 3214 0993