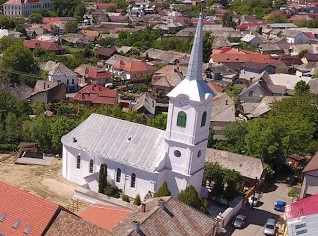 First Parish Church in Weston has been a long supporter of the Partner Church movement, in which a UU church here in the United States is paired with a Unitarian church in another part of the world, most often in Transylvania, the Philippines, or India. We have been partners and friends with the members of the Unitarian Church in Torda, Romania since 1990. In addition to exchanging gifts of support, members of our church have visited the Torda Community and welcomed the Torda ministers in Weston.
---
UNITÁRIUS TEMPLOM
TURDA (TORDA), ROMANIA
We are honored to connect with our Unitarian partner church community in Torda, and we support this relationship in several ways:
SUNDAY SOUP
During the winter months our teenage members cook and sell soup during our coffee hour with all proceeds going to Torda.
CHRISTMAS DECORATIONS
At Christmastime Torda sends us lace Christmas Tree decorations tatted by Torda parishioners. We sell these lovely angels and bells to our members with all proceeds going back to Torda.
VISITS
Groups of our members periodically visit Torda and we in turn occasionally host the ministers from Torda here at First Parish. These visits connect us to the lives and joys of our early Unitarian kindred in their Romanian community.  Recent plans for a trip were put on hold due to the Covid-19 pandemic, and we are considering all our options for a trip in the near future.
DENOMINATIONAL AFFAIRS
Our Denominational Affairs Committee manages our relationship with Torda and provides additional funding to help support the Torda church.