PASSWORD-PROTECTED INFORMATION
Our more sensitive documents and information (e.g., our church directory) are kept on a secure page (link below) that is password-protected.
The password is available to members (active church participants) and is accessible by contacting the church office at Admin [at] FirstParishWeston.org.
---
On this page, you will find many church-related documents, resources, and forms that are helpful for church members and people participating in our programs and committees.
If you are looking for information that is not listed here, contact Betsy Gibson, our Parish Administrator, at Admin [at] FirstParishWeston.org.
---
New Parishioner Contact Directory in the Works!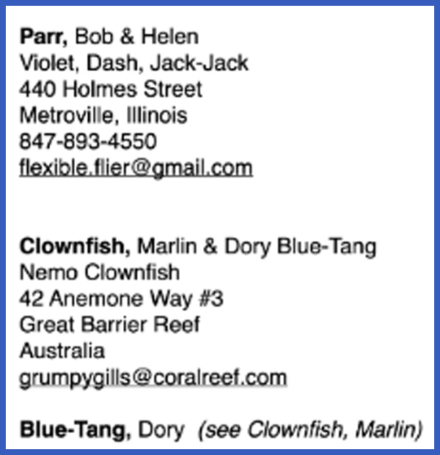 It has been several years since First Parish produced a new parishioner directory. In the past, the directories were created largely by outside companies who brought in professional photographers and sold packages of family photographs that allowed them to print the directories at no cost to the church.Since our last directory, produced in 2014-2015, there have been multiple staff changes, new people have joined the congregation, others have moved away, children have been born, and, sadly, we have lost parishioners to death. Partly due to the pandemic and partly because these directories, while lovely to look at, quickly became out of date, we have decided to produce one in-house, using our new member database, in a 3-step process.
Create a household contact information directory in PDF format that will be password-protected but accessible on our website by parishioners. The format will be very similar as in previous directories, as shown above, with children's names beneath their parents'. As your information changes, the document can be updated and re-posted in a timely way.
Create a photo addendum through a combination of self-submitted photos (you may send a good quality jpeg anytime to

email hidden; JavaScript is required

) and/or photos taken at First Parish once we have resumed in-person worship on a regular basis. This also will be password-protected but accessible on the website
Provide access via smart phone to an online, individual-focused directory. This online directory gives enrolled parishioners the ability to change their contact information (automatically updating the church database), upload a photo, view their donation history, and get contact information for others in the same church groups and/or the congregation at large. In order to get access to this directory, you must have a current email address already entered into the database.
Before these steps can go forward, we need you to submit your contact information – only one submission per household, please. Click here to go to our Google quick-to-fill out survey form; include only the information you want to share with your fellow parishioners. Once you've provided your current information, you will have the opportunity to opt out of being included in the directory should you wish. The sooner we hear from everyone, the sooner we can get Step 1 complete and available for your use so please take a couple of minutes and fill out the survey. Then watch for more information about:
If you have any questions or experience technical difficulties, please don't hesitate to reach Betsy Gibson in the Church Office at 781.893.7798 or betsygibson [at] firstparishweston.org.
---
ACTIVITY POLICIES
CHILD & CHURCH SCHOOL FORMS & POLICIES
EXPENSE REIMBURSEMENTS
GUIDING POLICIES
Volunteer Leaders and COMMITTEE MEMBERSHIP
USHER and SERVER DUTIES