Music is a very important element of Sunday Service, more so than at many churches. Our full choir and dynamic organ lead us with hymns and provide interludes as we transition through the many areas of our Order of Service.
Music also forms an important backdrop during the non-verbal times that we set aside for contemplation.
Twice each year we host an "All Music Sunday" that forms for us a music ministry.  We collect our thoughts as we sit in our sanctuary surrounded by the music of angels and Brahms, Bach, Beethoven, and other greats.
Join Us!

Want to join the choir?  Speak to Music Director T.J. Rufo or call the Church Office and we can get you connected!
---
Our Main Organ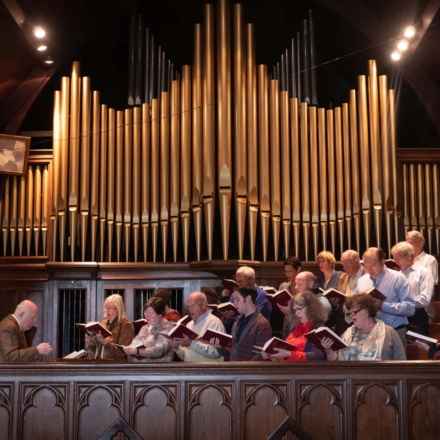 Our Hooks and Hastings organ is an important part of our worship service.  Installed in 1919, it was fully restored in 2010 and encompasses 38 pipe stops, 56 digital stops and 20 audio channels with more than 2,000 watts of power.  It is capable of performing music from any period and style, and will allow for the evolution of our music program through the incorporation of new technologies as time goes by.
OUR SEARS CHAPEL ORGAN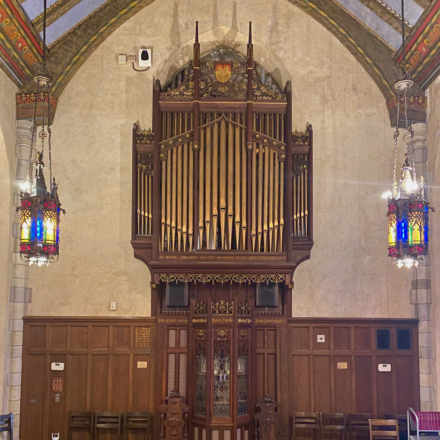 The Sears Chapel is graced with a 1930 organ that was rebuilt in 2002 by Timothy Smith of Nobscot Organ Company.  At the rededication, Mr. Smith advised:
My goal was to create a versatile instrument of wide dynamic range, suitable for leading hymn singing, playing weddings and funerals, and rendering a significant body of organ repertoire. With only fifteen ranks speaking into a small space, I did not expect to embrace any one European school of organ design. Instead, I drew on the work of the Roosevelts in late nineteenth-century New York City, and a basic American philosophy of eclecticism.
A brass plaque was installed on the back wall with these words: The Chapel Pipe Organ, installed 2002, is given in Remembrance of Bill and Margaret Rousseau and their love of music.
---
Shifting Gears
With the advent of the COVID pandemic, the FPC Choir converted to a virtual operation. Choir members learned and practiced music at home, listening to organ accompaniment via headphones, watching the conductor on a tablet and recording themselves. They then submitted their recordings to our wonderful Tech Crew for editing and insertion into our virtual worship services.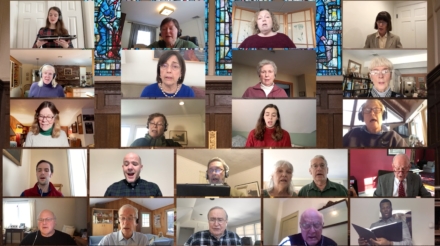 FPC Virtual Choir (Jan. 31, 2021 worship)
Click here to watch and listen to a collection of every song performed by the First Parish Weston Virtual Choir during the time of COVID-19.
Special Acknowledgements
Special thanks to Larry Shaw, President of Boston Light and Sound, for his invaluable assistance in acquiring the necessary technological equipment, setting up and problem-solving in the virtual conversion for worship services, and to Mary Shaw, choir member and former Music Committee Chair, for her ongoing help in coordinating music distribution and section leader recordings.