The UUA Welcoming Congregation Program
In the 1980s and 90s, when the word "welcoming" became a code word for lesbian, gay, and bisexual people, the Unitarian Universalist Association (UUA) launched a Welcoming Congregation Program to help us learn how to undo homophobia—and later, transphobia (prejudice against transgender people)—in our hearts and minds, our congregations, and our communities.
The UUA's position is that each of us has worth and dignity, and that worth includes our gender and our sexuality. As Unitarian Universalists (UUs), we not only open our doors to people of all sexual orientations and gender identities, we value diversity of sexuality and gender and see it as a spiritual gift. We create inclusive religious communities and work for LGBTQ justice and equity as a core part of who we are. All of who you are is sacred. All of who you are is welcome.
The requirements for recognition as a Welcoming Congregation are:
Measurable achievements in the areas of education, congregational life, and community outreach, using the Welcoming Congregation Guidelines and Action Steps as a guide.
A congregational vote in affirmation of being recognized by the Unitarian Universalist Association as a Welcoming Congregation.
In the spring of 2019, the First Parish Standing Committee convened a task force to begin the process of fulfilling the UUA requirements to become designated as a Welcoming Congregation.  The COVID 19 pandemic slowed but did not stop our efforts.
March 17, 2019 – Rev. Keith Kron Presents After Church Program – "Beyond Categorical Thinking"
September 2019 – First Parish began offering the OWL curriculum in our Church School program for the first time
October 24, 2019 – FPCW Book Group Discusses Becoming Nicole by Amy Ellis Nutt
February 9, 2020 – First Parish Welcomes Members of Greater Boston PFLAG for Presentation to the Congregation – PFLAG Helps change attitudes and create an environment of understanding so that LGBTQ+ family members and friends can live in a world that is safe and inclusive.
March 1, 2020 – Rev. Paul Langston-Daley Presents After-Church LGBTQ 101 Forum
January 3, 2021 – First Parish adds the following message to its weekly Sunday worship bulletins: First Parish Church has long welcomed people with different perspectives, backgrounds and orientations. While we currently pursue formally becoming a Welcoming Congregation, we happily welcome all people as part of our 21st century community and church. 
May 7, 2021 –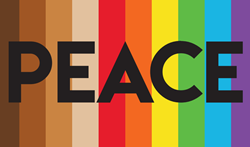 Peace Flag Movement Comes to Weston
The First Parish Welcoming Task Force is bringing the Peace Flag Movement to Weston. We hope that First Parish members and friends will pick up a flag from church and fly it as a symbol of equity and justice – for the earth and every culture, race, spirituality, gender, sexuality, ability and age. Starting Monday, May 10, pick up your flag in the vestibule outside the Church St. entrance to the Church Office (Outer door is never locked). First Parish will make a donation to the Peace Flag Movement; a donation is not required to get your flag, but if you'd like, you can leave a donation to support the future of the Peace Flag Project when you pick up your flag!
Let's see what we can do to help spread this important message through Weston and beyond!
May 25, 2021 – Several First Parishioners participate in OUT MetroWest's virtual training session "LBGTQ+ Basics and Beyond." This course aims to give clergy, staff, and congregants tools to be welcoming and inclusive neighbors, friends, and loved ones. Our Outreach Committee provides annual financial support to OUTMetroWest, which builds communities where LGBTQ+ youth thrive.They currently run more than a dozen youth meetings per month out of locations in Framingham, Newton, and Wellesley. Since 2011, OUT MetroWest has directly served more than 1,000 youth at its meetings, has conducted dozens of trainings for local schools and organizations, and has welcomed thousands of supporters to its community events.
June 13, 2021 – First Parish Church in Weston holds its first Pride-themed service and celebration.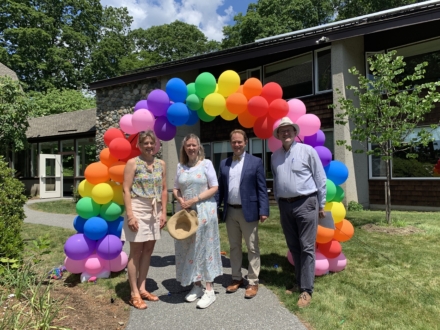 Some other resources you may find helpful:
https://outmetrowest.org/our-programs-overview-faqs/
New Books Added to the First Parish Library and available for borrowing
Coming Out in Faith by Susan A. Gore and Keith Kron, eds.
Queer There and Everywhere by Sarah Prager
Transgender 101: A Simple Guide to a Complex Issue by Nicholas M. Teich
This is a Book for Parents of Gay Kids by Dan Owens-Reid and Kristin Russo
Trans Allyship Workbook by Davey Shlasko
The Gender Creative Child by Diane Ehrensaft
A Queer History of the United States by Michael Bronshi