WELCOME TO FIRST PARISH WESTON
We foster open hearts and minds and welcome people from different backgrounds and perspectives. As a member congregation of the Unitarian Universalist Association, we practice a free-thinking and action-oriented faith. As an over 320-year old congregational church here in New England, we are grounded in and inspired by the Protestant Christian tradition.
Here you will find little or no dogma or strict creeds. Instead you will find people gathered around a covenant, a promise we make to one another to love what is true and to serve God and humankind in this world.
Our weekly service is relatively traditional, including readings from the Bible, prayers and hymns. There are moments for music, meditation, connection, and engagement with the major issues of our lives and world. We see ourselves as on a journey together. No matter where you are on your journey of faith, you are welcome here.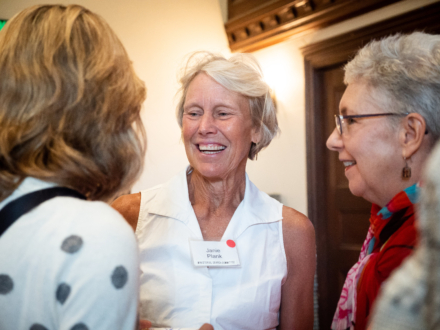 First Parish Church is an active community with a long history of making a difference in our town and region. We are a church that has long attracted free-thinkers, entrepreneurs, activists and philanthropists. We believe that the best measure of any religious tradition is how it inspires and influences our lives, our real lives. This is our aspiration and the perspective we bring to everything we profess and do.
HOW TO FIND US
We are the stone church across from the Weston Town Green at the three-way intersection of Boston Post Road, Church and School Streets.  (The stones of our church come from the farm fields that once surrounded us.)
Our address is: 349 Boston Post Road, Weston, MA 02493.
PARKING & ACCESS
Our parking lot is entered from Boston Post Road, though it fills quickly on Sundays. The easiest secondary parking is along Boston Post Road facing towards town where you can partially pull off the asphalt surface.
There are two church entrances. From the parking lot, on the left is a covered stone porch that enters into the sanctuary. Between the church and parish house, there is an enclosed breezeway with a door that provides access to both the church and the parish house.
Special Needs and Assistance
Handicap parking is in the upper driveway and in the parking area at the end and to the left of the main parking lot. The breezeway entrance is wheelchair accessible. Audio devices for those with hearing difficulties are located at the rear of the church. An usher can assist you, from whom you can also request a large-print version of the order of service.
Sunday Schedules
Sundays – Early September through Early June
On Sunday mornings our service is at 10:30am in the sanctuary. Occasionally, we will have our children join us here for the first few minutes of the service. Otherwise our children's program starts in our Sears Chapel. You can stop by the chapel to see where your children should start and also to meet our baby sitters. (See "Your Children's First Visit" for more information.)
Following our service, we have a fellowship coffee hour with coffee and refreshments in the Parish Hall.
Sundays – Mid-June through Labor Day
Our summer services start a little earlier at 10:00am. In normal times, they are held in the Sears Chapel, though during the current COVOD19 period they may be held in the larger main sanctuary or delivered online.  Check our church calendar to confirm both the location and time.
You enter through the breezeway door, turn right and proceed down the hall to the Sears Chapel or turn to the left for the sanctuary.
Festive Sundays and Special Services
On Festive Sundays (Thanksgiving, Sundays before Christmas and Easter) we often have more than one service. Christmas Eve is a highlight of the year with two services, each climaxing with a candle lit singing of Silent Night. Special services such as Christmastime services, Holy week, and others are announced throughout the year. Twice a year we have an all music Sunday when our organ and choir preside. Focusing on the music of a past era and a noted composer, they lead us in a special hour of contemplation. For many of our members, these dates stand out as not-to-be-missed Sundays. Communion is offered twice a year during the service. (Check the church calendar or Parish Post for updates and times.)
Where Do I Go and What Do I Wear?
You can use the main entrance or breezeway entrance to enter the sanctuary where an usher will offer you an Order of Service outlining the prayers and hymns of the day. An organ prelude starts approximately ten minutes prior to our service so you can enjoy few minutes of music as you arrive for the 10:30am service. We do not have a dress code though most dress in business casual, with some wearing suits and dresses while others wear khakis or denim.
Guest Card and Welcome Table
On the back of the pew in front of you is a guest card. If you would like to receive our weekly email "Parish Post" newsletter, fill out this card and drop it in the collection plate during the Offertory. You can also be added to our mailing list by calling or emailing the Church Office at 781-893-7798 or admin[at]firstparishweston.org). After the service we have a welcome table in the breezeway.  Please stop by, meet our greeter and pick up a name tag. From there you can join us for Fellowship Hour and refreshments.
Fellowship Hour and Meeting Our Members
Following our service, we host a fellowship hour with refreshments in the Parish Hall. Please join us.
We know it can be intimidating stepping into a new place surrounded by lots of people. You can ask our greeter at the guest table to introduce you to someone who can show you around. Or, if you would like to roam on your own, feel free at Fellowship Hour to come up to any one of us and ask about our church and members. We welcome you.