COMMUNITY PROGRAMS
Building on a legacy of nearly 325 years, we are an active part of the Town of Weston and of Boston's Metro-West area.  We make it easy for members to participate in programs touching individuals through the region. Our aspiration as a church community is: "You will be cared for, and you will be asked to care for others."
Outreach – Community Service: We participate with many organizations impacting both adults and families.  We prepare and serve a meal at Bristol Lodge on the fourth Wednesday of every month.  Our Social Outreach Committee coordinates many other opportunities for service and making a difference during the year.  If you have an area of special interest, our programs offer a broad range of opportunities.
In-Reach: We also host many events that bring our community together.
Other: First Parish Church regularly sponsors a variety of programs open to the larger community.  Recent programs include a presentation on "Youth and Technology" and "Aging Well," both featuring clinicians from Human Relations Services (HRS) in Wellesley.  Please see Programs for the Public under the main Community heading.
MEDITATION 
In our busy and complex world, it is beneficial to step back to find a peaceful place in our heart. A few moments of mindfulness meditation open ourselves to a better world and a brighter outlook for our day.
Join us Wednesday mornings at 8:30 am for morning meditation, currently online through Zoom (the meeting ID is 8309 0765 817). We typically meet in our beautiful Sears Chapel (and we hope to be back there again soon).
Outreach – COMMUNITY SERVICE
Community Service is an important element of our ministry through both funding and membership involvement.  We believe that church is more than just attendance on Sundays.  It is living our beliefs and our First Parish aspiration: "You will be cared for, and you will be asked to care for others."
In our busy lives, day-to-day activities can become all-consuming if we let them.  Our range of community service relationships enable each of us to find activities that fit into our schedules and enable us to live our aspiration.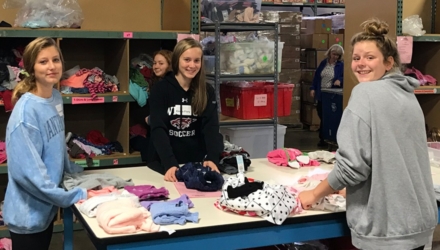 For information on our programs and partners, click on the links below.
DEVELOPMENT NEEDS – INFANTS AND CHILDREN
Unitarian Universalist Service Committee – UUSC: Advancing human rights and social justice around the world.  https://www.uusc.org/
Unitarian Universalist Urban Ministry: Transforming underprivileged individuals through education, service and advocacy.  http://www.uuum.org/
HOMELESSNESS AND AFFORDABLE HOUSING
VICTIMS OF VIOLENCE
OTHER ACTIVE SERVICE PARTICIPATION
Bristol Lodge Suppers: As part of our Bristol Lodge community service, we prepare one dinner each month and serve it to the homeless in Waltham. Anyone can join in on the cooking and serving, and see firsthand the appreciation of these individuals.  It is especially meaningful for our children. We prepare and serve a meal on the Fourth Wednesday of the month.

Food preparation (heating, carving, salad making) from 3:00 to 4:20 pm in the First Parish kitchen. Cold food should be delivered to the church by 3:00. Hot food can arrive as late as 4:15.
Supper is served at the Methodist Church in Waltham at the corner of Moody Street & Cherry Street starting at 4:30.
Questions? Contact Mary Menino (781-894-3165/mary.menino[at]gmail.com) or the Church Office (781-893-7798/ admin[at]firstparishweston.org).

METCO Scholarship Fund: Providing financial aid to inner-city students attending Weston schools under the METCO program.
Partakers: Providing a counseling ministry in mentoring prison inmates taking college courses to better their lives.  http://partakers.org/
Pastoral Callers: This is internal "in-reach" where we help our members in need, stopping by for visits in hospitals and homes, delivering meals to our sick, providing rides to doctors' appointments, providing shawls from the Knitters and Stitchers group, and offering a helping hand whenever it is needed.
Special Thanksgiving and Christmas Collections: Collections of food, toys and clothes for less fortunate children and adults.
IN-REACH PROGRAMS
Community at First Parish starts with our Sunday service and fellowship coffee hour where we see our friends and neighbors.  This is just the start as our community continues to work together on many programs that extend through the week.
We work on service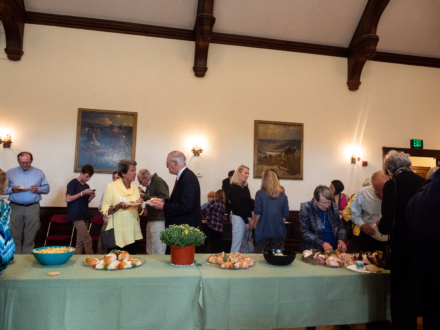 projects and an annual "All Parish Project" that targets a particular issue or need, and we work with our Outreach partners on an individual basis based on our individual time and passion.
Our community actions also involve interacting with other Weston organizations and congregations in joint programs such a Martin Luther King Day breakfast, sponsoring speakers and hosting special events.
Then there is the social side of our community:
Dinner Connections: We pair off into groups of four couples or combinations of couples and singles for lively monthly dinners in rotating houses.  The hosts cook the main course and the guests bring appetizers, salads or dessert.  In May all groups gather in the Parish Hall for a potluck supper.  We sign up for a new round of Dinner Connections each fall.
First Parish Book Group: A lively combination of fellowship and discussion on a book chosen by the group. The group generally meets on the third Thursday morning of the month.
Knitters and Stitchers: A weekly get-together making prayer shawls for those who are ill or compromised and garments for children in need. Meets in the Parlor Mondays at noon.
Parish Library: A collection of books with concentration on topics of religion and personal development. It also includes a children's section and a surprising number of books authored by First Parish members.
Senior Men's Lunch Group: Known affectionately as the "Old Geezers."  A monthly opportunity to bring a bag lunch and join in for discussion and fellowship. Meets in the Library the first Tuesday of the month from September through June.