First Parish Church is the stone church in the center of town, overlooking the Town Green, where Boston Post Road, School Street, and Church Street all meet.
ADDRESS
349 Boston Post Road
Weston, MA 02493
CONTACT
Office Phone: (781) 893-7798
Email: info[at]firstparishweston.org
To contact specific staff, please see our Staff page.
HOURS
Church Office: Monday through Friday, 9:30 AM – 5:15 PM
Minister's Hours  —  Day off on Monday; in the office Tuesday through Friday.
Assistant Minister's Hours  —  Tuesday, Wednesday, & Friday.
* Please Note:   Ministers' office hours may vary due to meetings, events, other commitments; you are encouraged to contact Jeff or Sarah for an appointment so they can block off some uninterrupted time for you.
PARKING
Our parking lot is entered from Boston Post Road, though it fills quickly on Sundays.  The easiest secondary parking is along Boston Post Road facing towards town where you can partially pull off the asphalt surface.
There are two church entrances.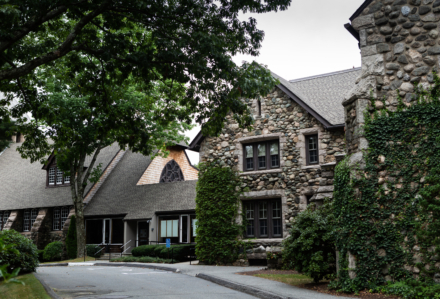 From the parking lot, on the left is a covered stone porch that enters into the sanctuary.
Between the church and parish house, there is an enclosed breezeway with a door that provides access to the church as well as to all rooms and facilities of the parish.
Special Needs Access and Assistance
Handicap parking is in the upper parking lot at the end and to the left of the main parking lot.
The breezeway entrance is wheelchair accessible
DIRECTIONS
First Parish is located in the center of Weston at 349 Boston Post Road. Use the map below to find directions from your location.