This is a difficult time for us all, and we recognize the importance of community and emotional connections now more than ever. First Parish Church in Weston is committed to keeping our building and property safe and healthy for our many members and guests.
---
Covid-19 Safety Policies & Protocols
— as of September 14, 2021 —
To ensure the safety of everyone who regularly uses our building and facilities:
1. Please wear a mask.
The Church requests that all visitors wear a face mask while inside our building and strongly recommends one around our property. If you do not have a face mask, First Parish has disposable medical masks available, and you may be offered one by staff or members of the congregation.
2. disclose if you are not vaccinated.
Kindly inform a staff member or your meeting host if you have not been fully vaccinated. (We understand that all children under the age of 12 are not yet eligible and therefore assume they have not been vaccinated.)
3. Sign-in using the forms provided.
We require sign-in sheets for various events for contact tracing purposes. Attendance lists are discarded when they are no longer needed, and we hold this information in the strictest confidence and security.
---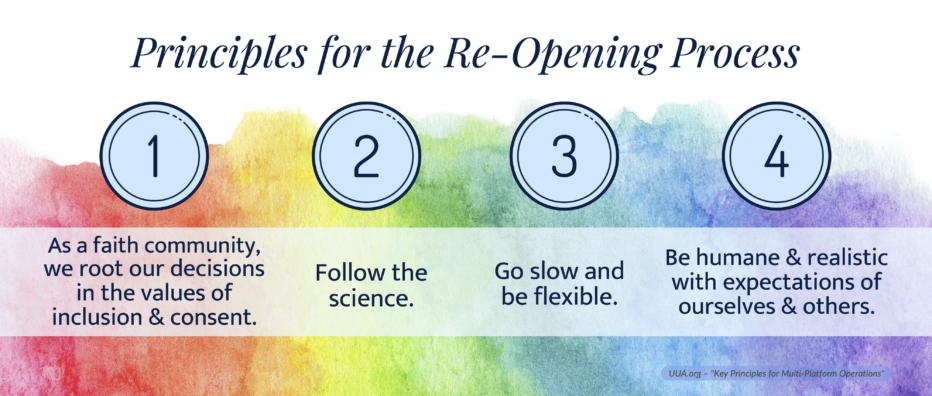 We follow these principles when creating or considering our Covid-19 policies: 
As a faith community, we root our decisions in the values of inclusion & consent.
Follow the science.
Go slow and be flexible.
Be humane & realistic with expectations of ourselves & others.
Thank you for your consideration and support. First Parish has a strong commitment to service and outreach, and we maintain health & safety policies so that we may continue to be a vital and responsible venue and resource for our community and Town.
Any questions or concerns about these policies will be referred to the Standing Committee of the congregation. Contact our Church Office for more information.