Statement as of Jan 8, 2023:
We are a church; a faith community. Because of our population, which has a relatively high proportion of at-risk people compared with the rest of the population, and because of our level of concern for each other, our assessment of risk needs to be more conservative than the general population.  The UUA and The Mass Counsel of Churches continue to urge caution in church gatherings, especially for those who are at greater risk of severe disease from COVID-19 infection.
With these developments in mind, and in the hope that severe COVID-19 infections will remain low, the Standing Committee met on January 10th and voted to offer the following Protocol, recognizing that no COVID-19 policy can insure that there will be no transmission of the COVID-19 virus.
Physical distancing:  Please continue to practice social distancing when possible while seated during the service.  ("Go where there's bow")   We also continue to practice social distancing at events of more than 10 individuals.
Masks:  We recognize that there may be at-risk people in our congregation and we strongly encourage individuals to wear a mask in the sanctuary or at any in-door church gatherings of more than 10 people.  Furthermore, in line with guidance from the Massachusetts Department of Public Health, we advise that individuals should wear a mask or face covering when indoors if they have a weakened immune system, or if they are at increased risk for severe disease because of age or an underlying medical condition, or if someone in their household has a weakened immune system, or is at increased risk for severe disease.
Promote good ventilation: We will continue to run air circulators or open windows when weather permits.
Strongly encourage vaccination and booster shots: We will occasionally publish information about out how to access the vaccine.
Covid-19 Risk Levels for Massachusetts:
The latest COVID-19 risk levels for Middlesex County can be found by clicking here.
---
What You Can Expect of Us

Covid-Conscious Worship Protocols at First Parish:
Sunday morning services are held in a hybrid format with opportunities to attend in-person or live-stream using Zoom.
We ask everyone to sit in socially distant "pods" using the pews designated with a white bow ("Go where there's a bow!").
The doors at the front and back of the Sanctuary are propped open and there are fans pulling air through the space, achieving a minimum of four fresh air exchanges per hour (4 ACH) in our sanctuary.

Even though the space is heated, it will be drafty in the winter months and we encourage those in attendance to dress accordingly.
We turn the heat up extra high the hour before the service and then lower it once we open the doors to mitigate the temperature effect of the open doors. As painful as it is for our wallets and our sense of ecological responsibility, we place a high value on the ability to gather together as a community.

We have a new air ionization and filtration system installed in the Sanctuary that works with our HVAC system to filter and clean the air before, during and after events.
General Safety Protocols:
We follow the science and listen to public health experts.
We keep tabs on the Weston public schools, paying attention to their policies, protocol, and responses to ongoing developments.
We ask anyone using our building or grounds to adhere to our safety policies (below) to keep everyone safe, and we limit attendance in gathering spaces to well below capacity.
We have fresh air ventilation with open windows and doors at either end of the building or gathering space and aim for 4-6 fresh air exchanges per hour (4 ACH).
We have three hospital-grade portable HEPA filtration units that run before, during, and after events.
* * *
We ask everyone who visits First Parish to comply with any and all posted signs, notices, updates/changes, or announcements regarding our public health and safety policies. These Policies & Protocols may change at any time; check back on this website if you are uncertain about what policies apply, or feel free to give us a call.  
---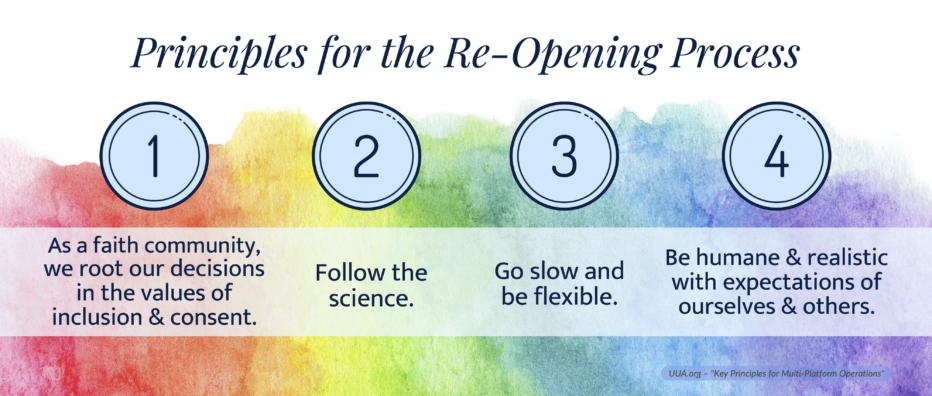 We follow these principles when creating or considering our Covid-19 policies: 
As a faith community, we root our decisions in the values of inclusion & consent.
Follow the science.
Go slow and be flexible.
Be humane & realistic with expectations of ourselves & others.
Thank you for your consideration and support. First Parish has a strong commitment to service and outreach, and we maintain health & safety policies so that we may continue to be a vital and responsible venue and resource for our community and Town.
Any questions or concerns about these policies will be referred to the Standing Committee of the congregation. Contact our Church Office for more information.