This is a difficult time for us all, and we recognize the importance of community and emotional connections now more than ever. First Parish Church in Weston is committed to keeping our building and property safe and healthy for our many members and guests.
— as of April 12, 2022—
---
What You Can Expect of Us

Covid-Conscious Worship Protocols at First Parish:
Sunday morning services are held in a hybrid format with opportunities to attend in-person or live-stream using Zoom.
We ask everyone to sit in socially distant "pods" using the pews designated with a white bow ("Go where there's a bow!").
The doors at the front and back of the Sanctuary are propped open and there are fans pulling air through the space, achieving a minimum of four fresh air exchanges per hour (4 ACH) in our sanctuary.

Even though the space is heated, it will be drafty in the winter months and we encourage those in attendance to dress accordingly.
We turn the heat up extra high the hour before the service and then lower it once we open the doors to mitigate the temperature effect of the open doors. As painful as it is for our wallets and our sense of ecological responsibility, we place a high value on the ability to gather together as a community.

We have a new air ionization and filtration system installed in the Sanctuary that works with our HVAC system to filter and clean the air before, during and after events.
General Safety Protocols:
We follow the science and listen to public health experts.
We keep tabs on the Weston public schools, paying attention to their policies, protocol, and responses to ongoing developments.
We ask anyone using our building or grounds to adhere to our safety policies (below) to keep everyone safe, and we limit attendance in gathering spaces to well below capacity.
We have fresh air ventilation with open windows and doors at either end of the building or gathering space and aim for 4-6 fresh air exchanges per hour (4 ACH).
We have three hospital-grade portable HEPA filtration units that run before, during, and after events.
---
What We Ask of You
We continue to implement these requirements to ensure the safety of everyone who regularly uses our building and facilities:
1. ABIDE BY THE 8 x 10 RULE
If a group of EIGHT or more people is in the same space for TEN or more minutes, we ask that masks be worn and window(s) be opened.
2. WEAR A MASK.
The Church strongly recommends that all visitors wear a face mask while inside our building (and around our property). If you do not have a face mask, First Parish has disposable medical masks available, and you may be offered one by staff or members of the congregation.
3. DISCLOSE IF YOU ARE NOT VACCINATED.
We ask that you inform a staff member or your meeting host if you have not been fully vaccinated. If you are not vaccinated, we strongly encourage you to stay home and join our events virtually. Our Sunday service is live-streamed at 10:30 AM, and a recording of the service is posted in our Vimeo showcase Sunday afternoon/evening.
*
As of April 12th, 2022, we no longer require contact tracing for events at First Parish as the prevalence of community spread has reduced the efficacy of that measure.
* * *
We ask everyone who visits First Parish to comply with any and all posted signs, notices, updates/changes, or announcements regarding our public health and safety policies. These Policies & Protocols may change at any time; check back on this website if you are uncertain about what policies apply, or feel free to give us a call.  
---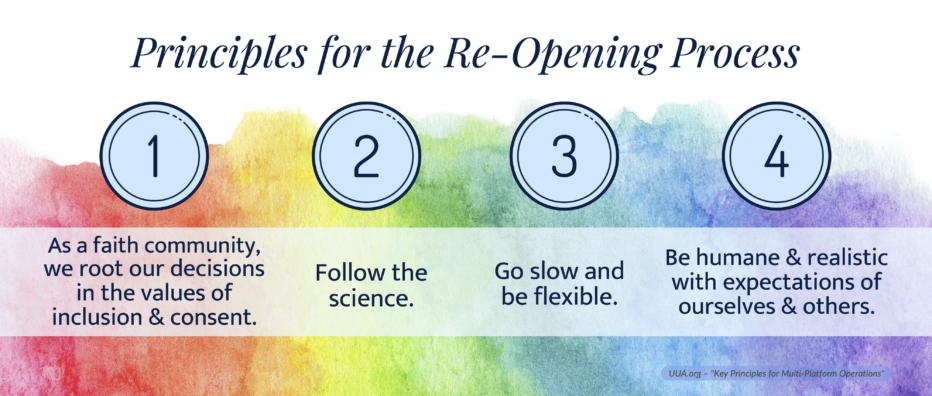 We follow these principles when creating or considering our Covid-19 policies: 
As a faith community, we root our decisions in the values of inclusion & consent.
Follow the science.
Go slow and be flexible.
Be humane & realistic with expectations of ourselves & others.
Thank you for your consideration and support. First Parish has a strong commitment to service and outreach, and we maintain health & safety policies so that we may continue to be a vital and responsible venue and resource for our community and Town.
Any questions or concerns about these policies will be referred to the Standing Committee of the congregation. Contact our Church Office for more information.