We have been physically distanced to protect the health and safety of our community, but we cannot be distanced from our yearning for wonder, hope, and inspiration.
We have adapted the format for our weekly services throughout the pandemic, and we continue to innovate and think on our toes to create excellent worship while maintaining public health and safety. Starting in Fall 2021, we have been experimenting with a new hybrid worship format: we are having live, in-person services on Sunday mornings at 10:30 AM either outdoors (weather permitting) or in the sanctuary, while simultaneously live-streaming the service using Zoom. To participate in our worship via live stream on Sunday mornings, click the link below!
~
~
Click here for a PDF of the Order of Service.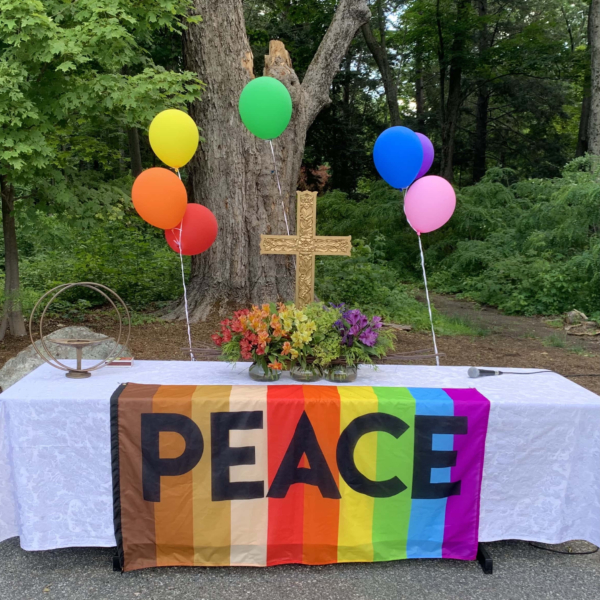 * * *
URL for Livestream– https://uuma.zoom.us/j/99215583704   —   Zoom Meeting ID # 992 1558 3704
---
Recent Sunday Services
---
If the embedded video is not working, try these links to view our recent services:
Click here for a PDF of the Order of Service.

---
If you are having problems using those links to access the service, try both Vimeo and YouTube —
Copy one of these links and paste it into the address bar of your web browser.
https://vimeo.com/showcase/fpcw-services

https://tinyurl.com/FPW-YouTube
---
Previous Online Worship Formats
In response to the Covid-19 pandemic, we moved our services online in the spring of 2020 and shared pre-recorded worship services through August 2021. The services were pre-recorded, but also contained real-time elements; we would watch the service together from our separate homes on Sunday morning at 10:30 AM, during which we exchange digital signs of peace in real-time. Members were invited to download a PDF of the order of service, sit back, and join in a time of distant but shared inspiration and reflection.
After worship, we would grab our coffee mugs and gather live on Zoom to connect for a time of community fellowship and friendly conversation. For security, we typically did not post the Zoom link on our website; for regular worship updates (about whether we're outdoors, in the sanctuary, or moving back online), subscribe to our email list by contacting the Parish Administrator.
---
Video Readings to be recorded for upcoming services:
Click here for the current passages for which we are looking for readers.