At First Parish, we offer childcare and programming for all ages from birth until high school graduation. On Sunday mornings, babies and toddlers are welcome in our professionally staffed nursery while K-12 grades are welcome in our religious education classes during the 10:30am worship service. Young children can be dropped off in our nursery and K-12 graders should check the bulletin board in our breezeway to see if they will start off in church or in the chapel.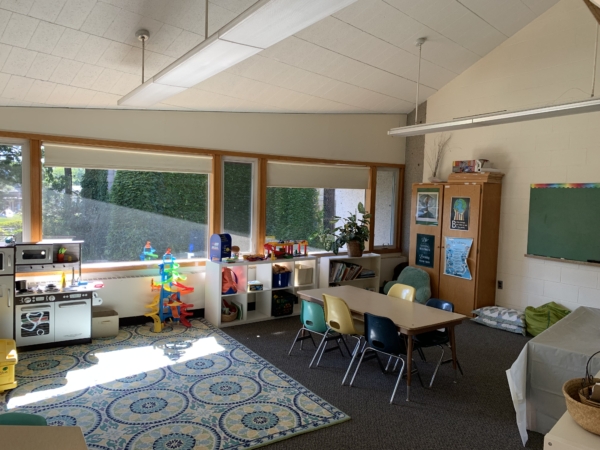 Nursery
Professional nursery care is provided for babies through Kindergarten by Robert Jones, our Youth & Family Ministries Coordinator. In alignment with our Child Protection Policy, we always have additional volunteer childcare providers present as well, which include both high school aides and adult church members who love babies!
Children can be dropped off in the nursery before the worship service begins, or can remain in worship with you, if you prefer. We have a beautiful nursery space with wonderful toys and lots of natural light, and a phenomenal playground right outside the nursery.
Please feel free to reach out to Robert Jones directly with any questions, or just take a few minutes to meet with him as you drop off your child. You are welcome to stay in the nursery with your child as long as you'd like, of course!
K-8 Sunday Morning Religious Education
Your K-12 graders will start off in either the Sanctuary or the Sears Chapel (check the breezeway bulletin board) and then are invited to leave after about 15 minutes for religious education. This worship time typically includes a story or children's message that has a Bible or value-oriented lesson, hymns, prayers, and readings from Scripture and other sacred texts.
Guests and visitors are invited to join us at any time. Some parents like to accompany their children to children's worship or to their religious education classroom the first time. Others prefer to connect with the Assistant Minister for Families and Community Outreach ahead of time. All are encouraged to fill out this quick registration form online with names, contact info, allergies, and any special concerns.
For an overview of our Sunday morning religious education programming, and middle and high school youth programming beyond Sunday mornings, click here.
9-12 Grade
Our High School Youth Group meets about twice a month on Sunday mornings from 9 – 10:15am in the Youth Room with Robert Jones, our Youth and Family Ministries Coordinator. Many stay around to help teach Religious Education in Church School. The intention of the group's regular meeting is to offer a safe and sacred space to connect and support one another in fellowship, and to explore themes of the group's choosing to help them on their lifelong spiritual journeys. This is a special time to be themselves authentically – to be rather than to do – in contrast to the time they spend in school or other goal-oriented activities. The group chooses their own service projects and fun events, and they have the opportunity to join longer service-learning trips, as well!
For more information, please see our Families with Children page.