Time is but a stream I go a-fishing in. I drink at it; but while I drink I see the sandy bottom and detect how shallow it is. Its thin current slides away, but eternity remains. I would drink deeper; fish in the sky, whose bottom is pebbly with stars.
– Henry David Thoreau, Walden
Our Approach to Religious Education
Here at First Parish, we believe that religious and spiritual development works best when integrated and paced with the natural psychological development of each child. We also recognize that beliefs do not exist in a vacuum – they exist to serve our lives, to help us live with integrity, and to inspire us to be better people. Children will learn the wisdom of our Christian Unitarian Universalist religious heritage through Bible and value-oriented stories, discussion, hymns, prayer, and ritual, as well as by doing, by learning about the needs of the world and engaging in real world service projects, by practicing how to treat one another with compassion and respect, and by discovering  how to connect to the Sacred within themselves and others.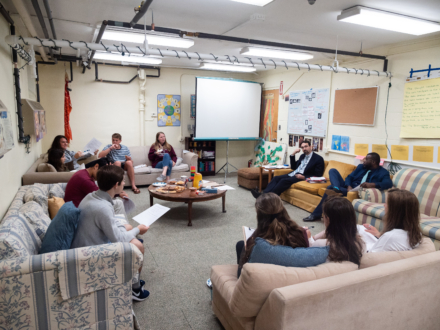 They also learn about the wisdom found in other religious traditions in order to find the connections and honor the differences. How can we learn to be present and grateful, to playfully engage with life, to center ourselves, to tune our moral compass, and gather tools for going through life spiritually? Come find out!
Winter Wonders
Recognizing that it can take an extra effort to come out to church in January and February, we put in extra effort to create a unique and transformative Sunday morning experience every Sunday in January and February for ages K-12 together, during the darkest times of the year.
In 2019 and 2020, we transformed our Sear's Chapel into the Great Hall of Hogwarts Castle for an all-ages Harry Potter Social Justice themed curriculum each Sunday morning. This wonderful curriculum touches the children and youth as they make their own magic wands, learn spells, play games, and most importantly, each week, participate in real-world social justice campaign (horcrux campaign in Harry Potter language) as members of Dumbledore's Army, such as combatting illiteracy by launching a book drive to benefit More Than Words, and helping petition Godiva Chocolate to stop sourcing cocoa produced with child labor.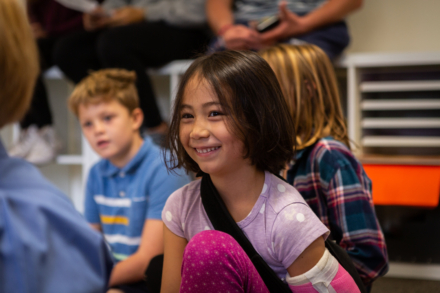 Other past campaigns have included:
An Anti-Hate Campaign learning tools to prevent bullying – especially identity-based such as related to gender, race, religion, or nationality
An Environmental Campaign selling wildflower seeds to raise funds for Environmental Organizations
An Anti-Animal Cruelty Campaign where we created gift baskets for animals rescued by The Buddy the Dog Shelter in Wayland
Ministering to Families in Weston and Beyond
First Parish aims to provide inspirational programming not just for members of the church, but to all families in Weston and the surrounding area. We endeavor to provide innovative ways to partner together to support each other in our spiritual and community lives. Family-oriented service projects, sometimes combined with youth group projects, are one great way to give back together, and all of our service projects are open to the community. Here is a short list of some of the most recent:
First Parish-sponsored Sustainable Weston Action CleanUp Group: A group including youth and adults joined the 2nd Annual Weston Town CleanUp in April by picking up trash along Church Street north of the church. We picked up a surprising amount of trash!
Family Volunteering at Land's Sake: First Parish sent a group to join a Land's Sake Volunteer Day in September, helping to clean up the tomato fields at the end of the season.
A trip to Cradles to Crayons Giving Factory in Boston where we put together packages of clothing for youth in need.
A trip to Hope & Comfort in Needham, where we put together hygiene kits for food insecure youth and their families.

Your Thoughts
If you could create the religious education program of your dreams for your family and community, what would that look like? We want to know! Please take our survey here.
Here at First Parish, we are always looking to provide programs that meets the needs of families in the community. Don't hesitate to contact us to discuss what it means to be part of a free church and how we might work together to make this world a better place. That's what we think spiritual community can and should look like in the 21st century.
Please contact us with any questions about our programs for your children.  Visitors and new students are always welcome.
Rev. Sarah Napoline, Assistant Minister for Families & Community Outreach 
SarahNapoline@FirstParishWeston.org
(781) 893-7798 x102
Robert Jones, M.Ed. Youth and Family Ministries Coordinator
RJones@FirstParishWeston.org
(781) 893-7798 x103