Last updated May 3, 2022
---
Part-time Video Production Assistant
Summary: Stream, record, and produce the church's Sunday service and other programs 3-4 times each month.
First Parish Church in Weston is looking for one or two part-time Video Production Assistants who can use our existing video and audio system to stream/record our weekly service and then edit and produce the program for sharing on Vimeo and YouTube. This position requires working on Sundays from approximately 9:30 am to 1:30 pm. We are willing to train the right persons interested in learning more about video recording and editing.
Skills Required: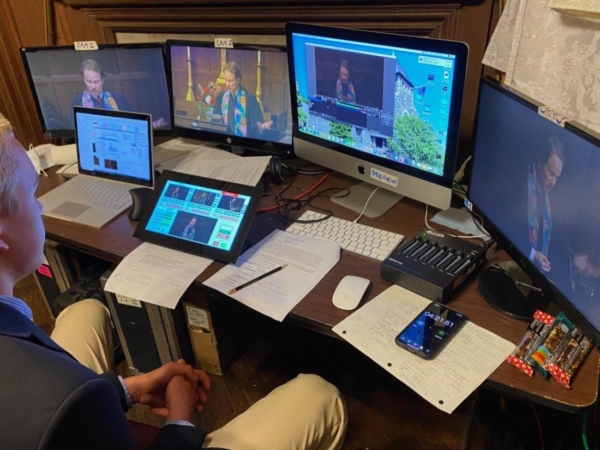 Operation of our 3-camera (PTZ) recording system (Q-Sys) installed in our sanctuary and operated out of our adjoining "Control Room." Easy to learn.
Understanding of audio connections and monitoring sound levels on our soundboard before and during recording sessions.
Some familiarity with how to tape a video program including following a plan for camera shots.
Decent understanding of video editing software such as iMovie and Adobe Premiere. To date, our services and programs have been produced using Adobe Premiere and Adobe Audition.
Ability to work with different participants and conduct sound checks before the taping begins.
A sense of humor and willingness to learn.
Compensation:    $22-24/hour depending on experience
Hours/Schedule:  2-3 Sundays per month for 4 hours each time.
(Note: No services in July 2022. Limited summer schedule.)
CORI and Criminal Background checks are required.
Interested candidates should send a short introductory cover letter and resumé to the Rev. Sarah Napoline at sarahnapoline@firstparishweston.org.
##
PDF of job description:  Part-Time Video Production Assistant
---