In the interest of public health, during the COVID-19 pandemic our worship has moved online. The service is pre-recorded and shared on Vimeo and YouTube on Sunday mornings. Click the button below for more information.
Worship Online with First Parish
---
Our service typically lasts one hour and follows a Protestant format (like many UU churches) with readings from the Bible and other thoughtful sources, prayers and hymns. Sermons and music play an important role in our services as our sermons provide an opportunity for us to reflect on the world, and our music inspires and stimulates connection and reflection.
We have a Christian Cross on the altar and a Unitarian Chalice up front on the side table. This reminds us of the broad beliefs of our congregation and our commitment to an open and affirming faith informed by both Biblical teachings and Unitarian Universalist Principals.
Several times per month, children begin in the sanctuary before being dismissed to church school. During those services there is almost always a "time for all ages." Check the bulletin board in the breezeway to see if your children start in the sanctuary or the Sears Chapel.
We always have infant and toddler care and religious education programs for children. (Check our calendar for school vacation weeks.)
Sunday mornings we meet for weekly service at 10:30am. An organ prelude starts as 10:20am.
Wednesday mornings, we gather for meditation and prayer at 8:30am, always concluding by 9:15am.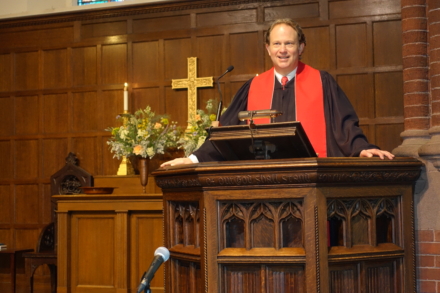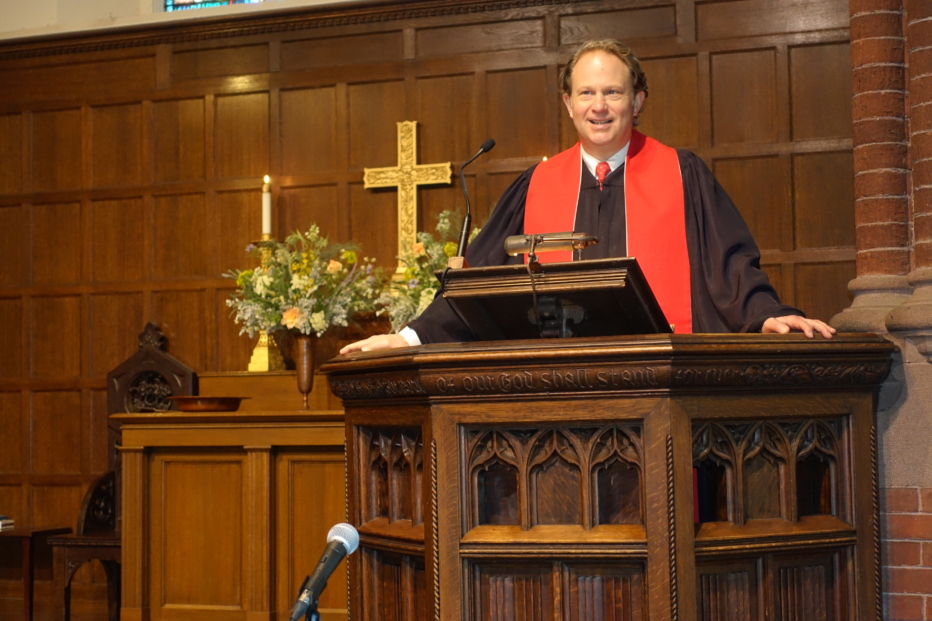 Sundays – Early September Through Early June
On Sunday mornings our service is at 10:30am in the sanctuary. About once each month we have our children join us here for the first few minutes of the service. On the other Sundays the children's program starts in our Sears Chapel.  You can stop by the chapel to see where your children should start and also to meet our babysitters. See Your Children's First Visit for more information.
Following our service, we have an hour of community coffee and refreshments in the Parish Hall.
Sundays – Mid-June Through Labor Day
Our summer services start a little earlier at 10:00am. In normal times, they are held in the Sears Chapel, though during the current COVOD19 period they may be held in the larger main sanctuary or delivered online.  Check our church calendar to confirm both the location and time.
You enter through the breezeway door, turn right and proceed down the hall to the Sears Chapel or turn to the left for the sanctuary.
Festive Sundays and Special Services
(Check the church calendar or Parish Post for updates and times.)
On Festive Sundays (Thanksgiving, Sundays before Christmas and Easter) we often have more than one service.
Christmas Eve is a highlight of the year with two or three services, each climaxing with a candle lit singing of Silent Night.
Special services such as Christmastime services, Holy week, and others are announced throughout the year.
Twice a year we have an all music Sunday when our organ and choir preside. Focusing on the music of a past era and a noted composer, they lead us in a special hour of contemplation. For many of our members, these dates stand out as not-to-be-missed Sundays.
Communion is offered twice a year during the service.

Our Covenant
Many churches are based on a creed – an agreed upon list of beliefs to which everyone subscribes. As a Unitarian congregation, we gather around a covenant, a sacred promise we make to one another to worship what is holy and be in community and service. This way of organizing a church is similar to that of our Puritans forebears, and is influenced by New England congregationalism. For more than 100 years, we have used a version of the Ames Covenant:
"In the love of truth, and in the spirit of Jesus Christ,
we unite for the worship of God and the service of humankind."
Our Aspiration
"You will be cared for, and you will be asked to care for others."
What does this mean to each of us?
It means that we join together on Sunday in both church and community, and that we live our covenant and aspiration every day and in our own way.
Our History
The more than 320-year-old history of First Parish is closely tied to the history of Weston. Learn more by visiting the Our History section in the Who We Are page.