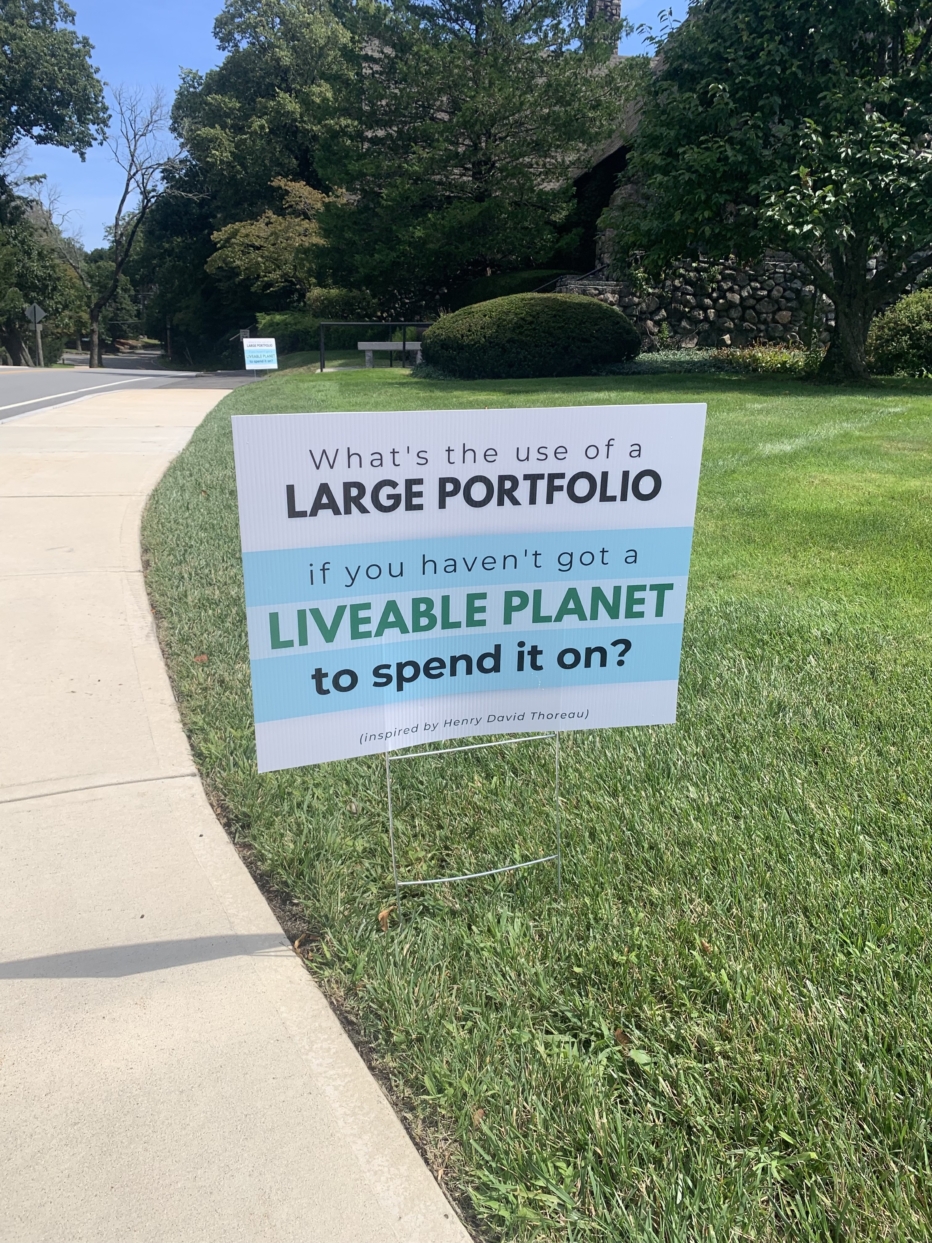 Hey what's with the Lawn Sign?
Last month was the hottest month around the world since modern measurements began.
Wildfires are burning at never before seen levels in Canada, portions of Europe and Asia, and now even Hawaii!
The water temperatures off the coast of Florida are hitting 100 F degrees, resulting in a historic eradication (bleaching) of coral reefs, which are essential to the rich diversity of aquatic life in that region.  We could go on.
Scientists are terrified by the data they are observing this year, be it ocean surface or ambient air temperatures around the world.  There is an anticipation that food prices are going to skyrocket in the coming months because of adverse impacts to the growing season in many places.
And yet it appears to be business as usual here in most of the U.S., even amidst unprecedented heat waves, and even though the world's scientists in the form of the Nobel Prize winning IPCC (i.e. the Intergovernmental Panel on Climate Change) have told us that we must reduce our carbon emissions by 80% or more (from year 2000 levels) by 2050 if we have any hope of keeping our climate (somewhat) stable.
All of this made me think of that famous quote by Henry David Thoreau:
"What good is a house if you don't have decent planet to put it on." 
So we thought we would offer a 21st century version of Thoreau's sentiment and put it on a sign, swapping out the house for a financial portfolio:
"What good is a large portfolio if you don't have a livable planet to spend it on."
I suspect that if Henry David were alive today and living right down the road, he would be making statements like this as he sounded the alarm about protecting the natural world and by extension our own lives.  He'd probably be even more provocative (and perhaps stop paying his taxes again)!
I know some folks locally will perceive our simple lawn sign as radical, but I would argue that doing little as the seas warm and the storms surge and fires get worse while pretending like these weather changes don't affect people is truly the radical position here.  Three billion people on this planet are about to find themselves challenged by highly unstable living situations when it comes to their shelter, water and food. It's already happening.  There is an ethical dimension to our resources consumption as people living in the "first world" and many of us are just now waking up to this realization.
The good news is that the U.S. is starting to decarbonize our energy systems and society.  Countries, companies and communities around the world are investing in renewables, energy efficiency and low or no carbon solutions.  Hopefully we will speed up this process in the months and years ahead.
There are some excellent groups engaging on these issues in Weston and New England.  They include:
Sustainable Weston Action Group
Green Energy Consumers Alliance
Mass. Interfaith Power & Light
And many others!