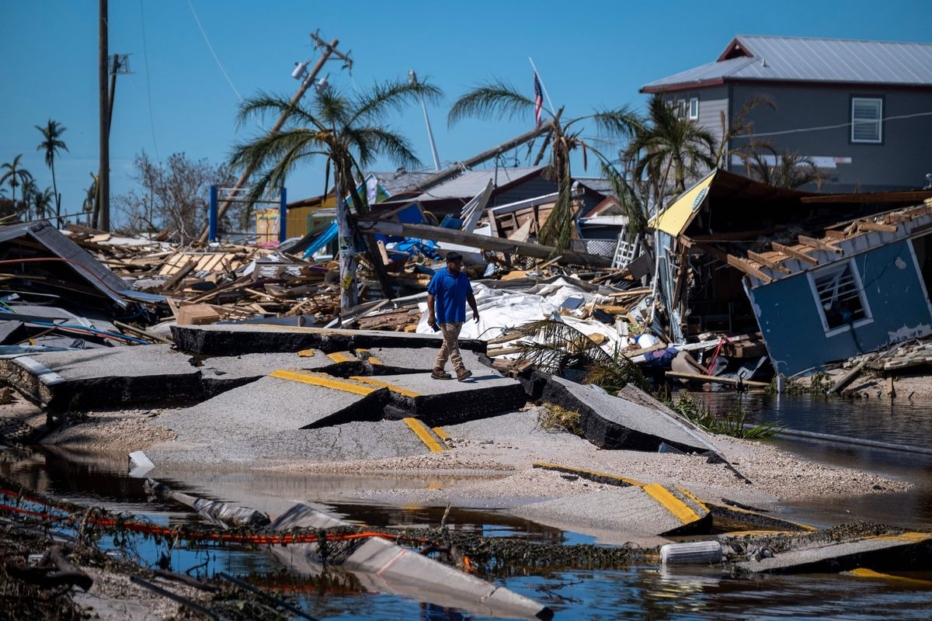 Natural Disasters & Extreme Weather
Several years ago I was in the South Street Sea Port district of southern Manhattan and I walked by a strange sign posted about 9 feet up on the outside wall of a restaurant.  The sign had a red line painted on it and read "Water line after Hurricane Sandy."  Some of you might remember that New York City was hit by this hurricane in late October of 2012.  It remains the strongest storm in recorded history to reach New York and Long Island.  Standing there by this restaurant and looking up at this sign indicating how high the water rose from storm surge made the power and damage of that Hurricane all too real.
I thought about that sign as I was watching videos and reading accounts of the devastating impact that Hurricane Ian has had in and around Ft. Meyers, Florida.  This was a strong Category 4 storm with winds over 150 mph.  While that is deadly in of itself, what was really horrifying was watching the amateur videos of the storm surge.  The Hurricane's winds literally whipped up a 9 to 11 foot high wall of water that inundated and destroyed much of the infrastructure in the region, and killing more than 100 people.  It's almost hard to imagine how destructive water can be until you watch the videos of the ocean filling up the first floor of a house and washing away roads and bridges.  This is already being described as the 4th worst storm to ever hit the U.S.
Hurricanes are a natural occurrence but their destructive forces has been amplified and accelerated by a changing climate.  It is remarkable how quickly this storm gained in strength over the historically warm waters of the Caribbean and Gulf of Mexico.  While oceans waters in the tropics are always warm this time of year, the temperatures are warmer now than any time in human history.  It's like putting a pot of water on a hot stove vs. what was a warm stove.
As someone who has studied energy and climate issues, I have given up debating whether or not climate change is real.  I know some people (and certain high profile newspapers named after a famous street in Manhattan) take issue with the implications of climate change, but the scientific consensus is overwhelming and becomes more compelling each year.  We as a country need to reduce our carbon emission by 80% or more by 2050, otherwise we are consigning our future selves and certainly our children and grandchildren to a growing set of dire circumstances.    This means that we all have a role to play in reducing carbon emissions.  We have met the enemy and they are us!  That's why a group of us here at First Parish volunteer with education and advocacy groups like MetroWest Climate Solutions and Sustainable Weston Action Group (aka SWAG).
This Sunday we will be "sharing our collection plate" with two reputable disaster relief organizations operating in Florida: the American Red Cross and the UU Disaster Relief Fund.  Even if you can't join us on Sunday, I hope you consider joining our efforts to help those in need. Imagine what a 9-foot wall of water would do to your house.
We have a busy weekend of events here at First Parish, with a performance by Skylark on Saturday night and two services on Sunday.
Jeff